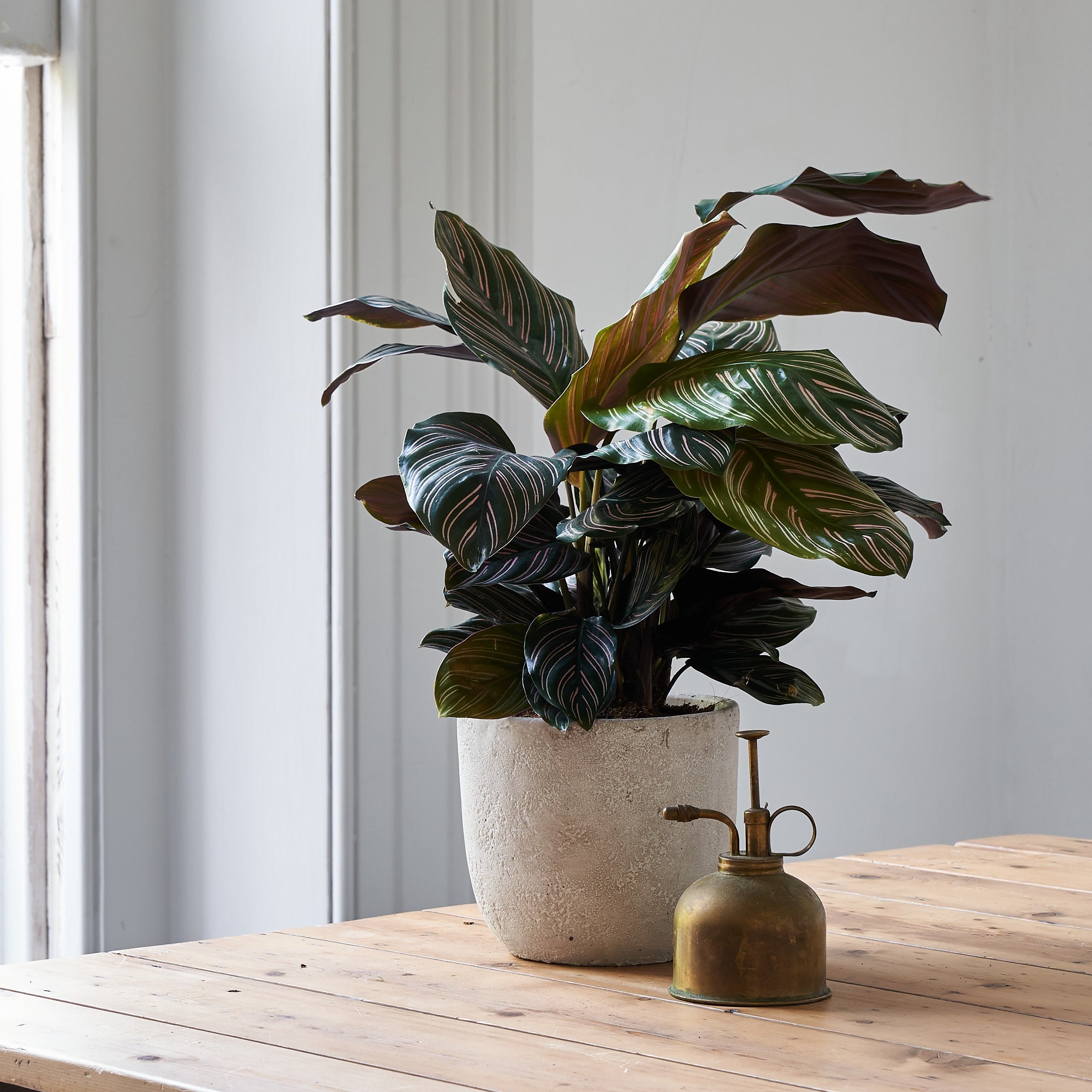 How to care for your Calathea Ornata (Pinstripe Plant)
Customers in our Exmouth Market shop often come to us for our best advice on how to keep their newly purchased houseplants alive and thriving. For those who would like to get a little more green-fingered, we'll be sharing our best tips and tricks on how to best care for your leafy companions. This month, we'll be talking about one of our all-time favourite houseplants: the Calathea Ornata!
What are Calatheas?
The Calathea Ornata, also known as the Calathea Pinstripe or simply Pinstripe Plant, are a tropical plant that make a fantastic choice for an eye-catching houseplant due to their lovely pink striped leaves, which almost look like a painting!
In this blog post, we'll talk you through watering needs, the best spot to keep your brand new Calathea and what pot to keep your new houseplant in. All you need to know to welcome a healthy Calathea into your house!
Where should I keep my Calathea?
Calathea plants are tropical plants, so they thrive in environments that get bright, indirect sunlight throughout the day. Bright, but shaded spots near east or west windows are excellent, to ensure they wouldn't get an overdose of direct sunlight as this would cause the leaves' colour to fade. 
Avoid having your Calathea close to radiators and other heat sources that create dry environments. We also recommend avoiding cold drafts and sudden temperature changes, as your Calathea won't like this. 
How do I water my Calathea?
Calatheas are tropical plants so they love humidity. Keep the soil lightly moist at all times, and water when the soil starts to dry out. They don't like completely dry soil, so make sure you water it before it gets to this point!
Don't overwater your calathea, though. Too much water or letting it sit in water can cause the roots to rot.
As they love humidity, we recommend misting your Calathea regularly. We love using our handy 2-in-1 watering cans & misters!
What extra care do Calatheas need?
Use fertiliser once a month during the growing season, i.e. between Spring and Autumn. Check out our houseplant care tubes, which are 100% natural and organic. As we mentioned earlier, misting is essential to keep your Calathea healthy. Use our popular green watering cans as both to water plants directly or as a spray bottle to mist them. 
What pot should I keep my Calathea in?
Although Calatheas need regular watering and misting, you do want to avoid excess water at the bottom of your plant. Therefore, we generally recommend either keeping your plant in a plastic nursery pot which you could then put inside a beautiful and more decorative stoneware pot. When we bring in new plant pots into our store, we always try to find pots that have a small hole at the bottom, so that the water can drain easily which prevents excess water. Simply put it on top of its matching saucer, and you're all good!
Some of our favourite pots to keep your Calathea in are our Alexa Ceramic Pots, the popular Bergs Potter Terracotta Julie Pots and the Concrete Plant Pots. 
Haven't gotten your hands on a Calathea yet? As part of our curated houseplants collection, we have Calathea Ornata plants and Calathea Velvet plants available at our Exmouth Market shop and on our online shop. Live locally? Come and find the right plant to add to your urban jungle and start your very own collection!
Sign up to our newsletter to receive more plant care tips, and news about the latest hand-crafted additions to both our London stores and the Botanique Workshop website. Just scroll down to the bottom of the page and enter your email address in the box provided.