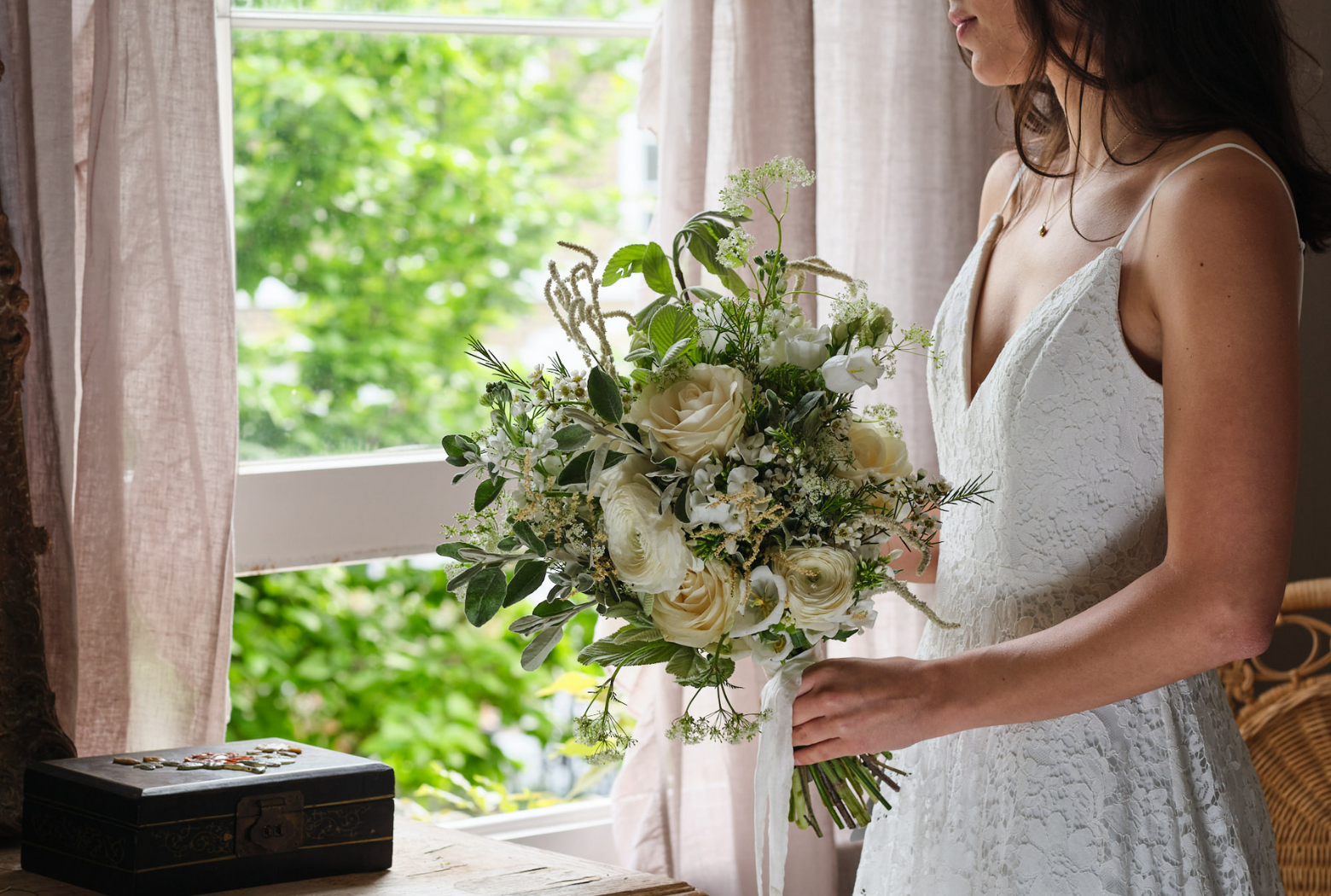 Our Off-the-peg wedding collection: how does it work?
We're excited to introduce our brand new off-the-peg collection, designed in six unique colour palettes to suit your wedding or event's theme and aesthetic. From our bridal bouquets and buttonholes to impressive floral arrangements, each item can easily be ordered online and delivered to your venue in London. In this blog, we're answering all the questions you might have.
What's our off-the-peg wedding collection?
Our off-the-peg flowers and arrangements are designed in six unique colour palettes. Each colour palette includes a range of personal items (bridal bouquets, buttonholes, flower crowns, corsages....) and floral arrangements (jam jar arrangements, trough arrangements, bud vases, foliage bundles...) which can easily be ordered online. These are perfect for those no fuss, lower budget or just smaller sized weddings and events, as there is no minimum spend. 
Couples can order the personal items they need for their special day, from bridal bouquets to buttonholes and flower crowns, and event organisers can find the perfect table arrangements to effortlessly add the finishing touch to their venue. 
Off-the-peg vs. bespoke: which one to go for?
If you're planning a more intimate wedding or hosting an event on a budget, our off-the-peg collection is perfect for you. As there's no minimum spend, you can simply pick out the individual items you need. Each item will be made to order for you the day before your wedding or event, using top quality, seasonal flowers and fresh foliage.
For larger weddings and events or for those who are willing to spend a little more or for events where specific flowers are required, we'd recommend going down the bespoke route. Our bespoke services start at £1500. In this case, we would assign one of our florists to your wedding, whom you can have a consultation with and who will be your point of contact throughout the process. Often, our florists would also help with the set-up, a service that isn't generally included with our off-the-peg range. 
How will your flowers be delivered?
When checking out, you'll be able to choose your delivery date. Depending on the time you need your flowers by and the size of your order, your order will be delivered by cargo-bike or by Addison Lee.
Small orders (e.g. a bridal bouquet and some other personal items) can be delivered to your home or venue by cargo-bike during our usual delivery slot (between 1 and 5pm). 
Large orders (e.g. larger vase arrangements) will be delivered by Addison Lee for an extra charge. 
If your flowers need to be delivered by a specific time, e.g. a morning delivery, we'd book an Addison Lee for an extra charge to ensure you'll receive them on time. 
Are delivery costs included in the total price?
As described above, this depends on when you need your order. If you choose to have your flowers delivered within our usual delivery slot (between 1 and 5pm) and your order is small enough for it to be carried by a cargo-bike courier, you wouldn't pay any extra delivery costs. If, however, your order is rather big (for instance if you order trough or vase arrangements, as opposed to just one bridal bouquet), we would book an Addison Lee and charge extra. We would also book an Addison Lee in case you require your flowers by a specific time, e.g. 10am in the morning to have them ready for your wedding around noon.
The price of the Addison Lee is calculated based on the distance from our shop to your venue, and will be discussed over email and charged after placing your order. 
How long in advance do I need to place my order?
All our wedding and event flowers are made to order. Generally speaking, we recommend placing your order at least 1 week in advance. This gives us enough time to check our availability and order the right flowers for you.
Is there room for customisation?
We've designed our colour palettes to suit different wedding styles and aesthetics, but we understand you might want to leave a personal request, e.g. have us use your favourite flower. Even though we can't 100% guarantee this as we work around the seasons with our flowers, we'll do our very best to include this if specified at checkout.  
Start planning your wedding or event
Planning a wedding or event soon? Browse our full off-the-peg collection here. Have any further questions? Don't hesitate to get in touch with flowers@botaniqueworkshop.com, an email account that is managed Monday - Friday.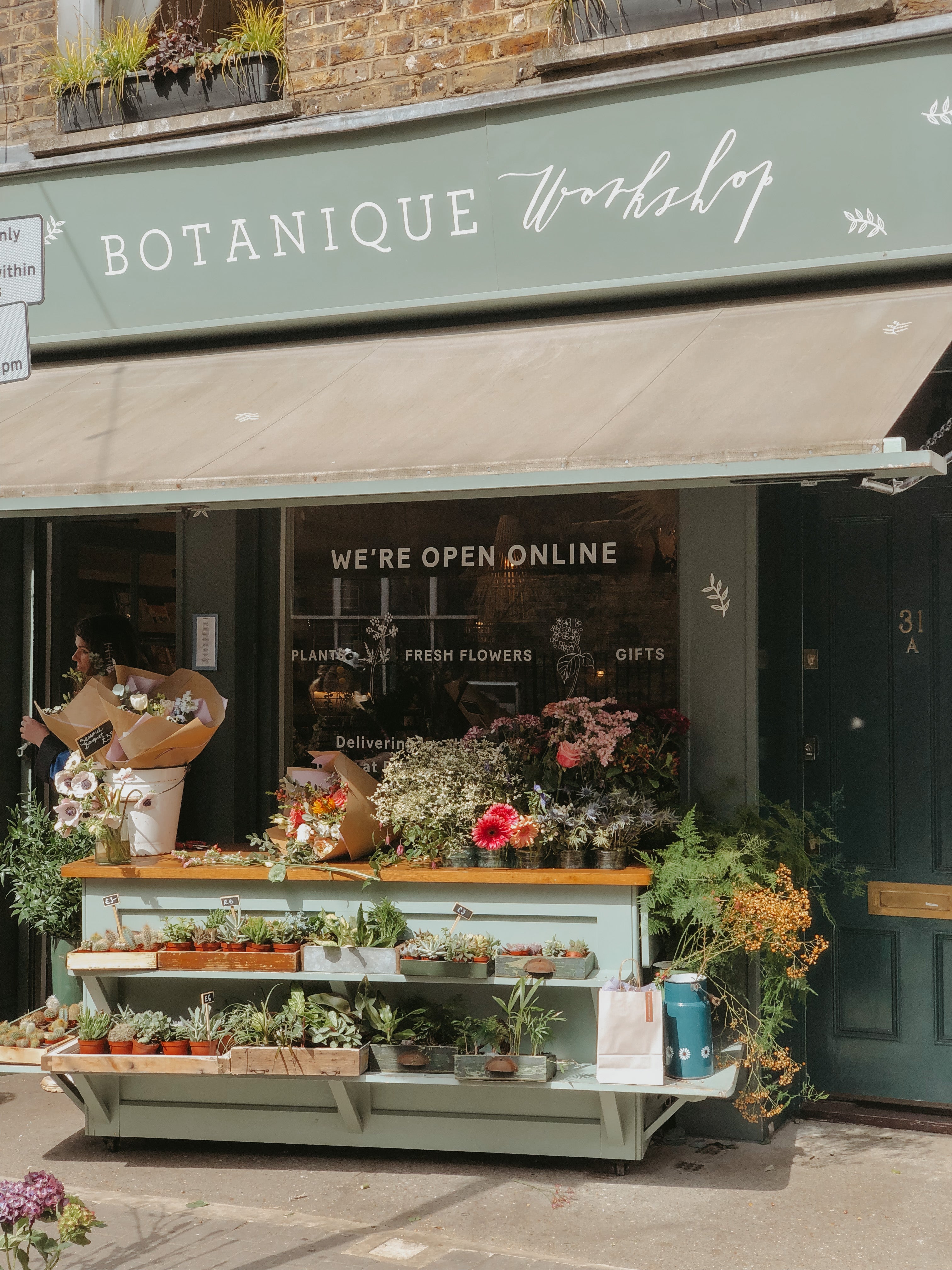 We're celebrating our 10th anniversary!
On Tuesday 19th April, we are celebrating our business' 10th anniversary, and we want you to be a part of it! Botanique is turning 10, and what a journey it's been! To say a big thank you to all ...
Read more