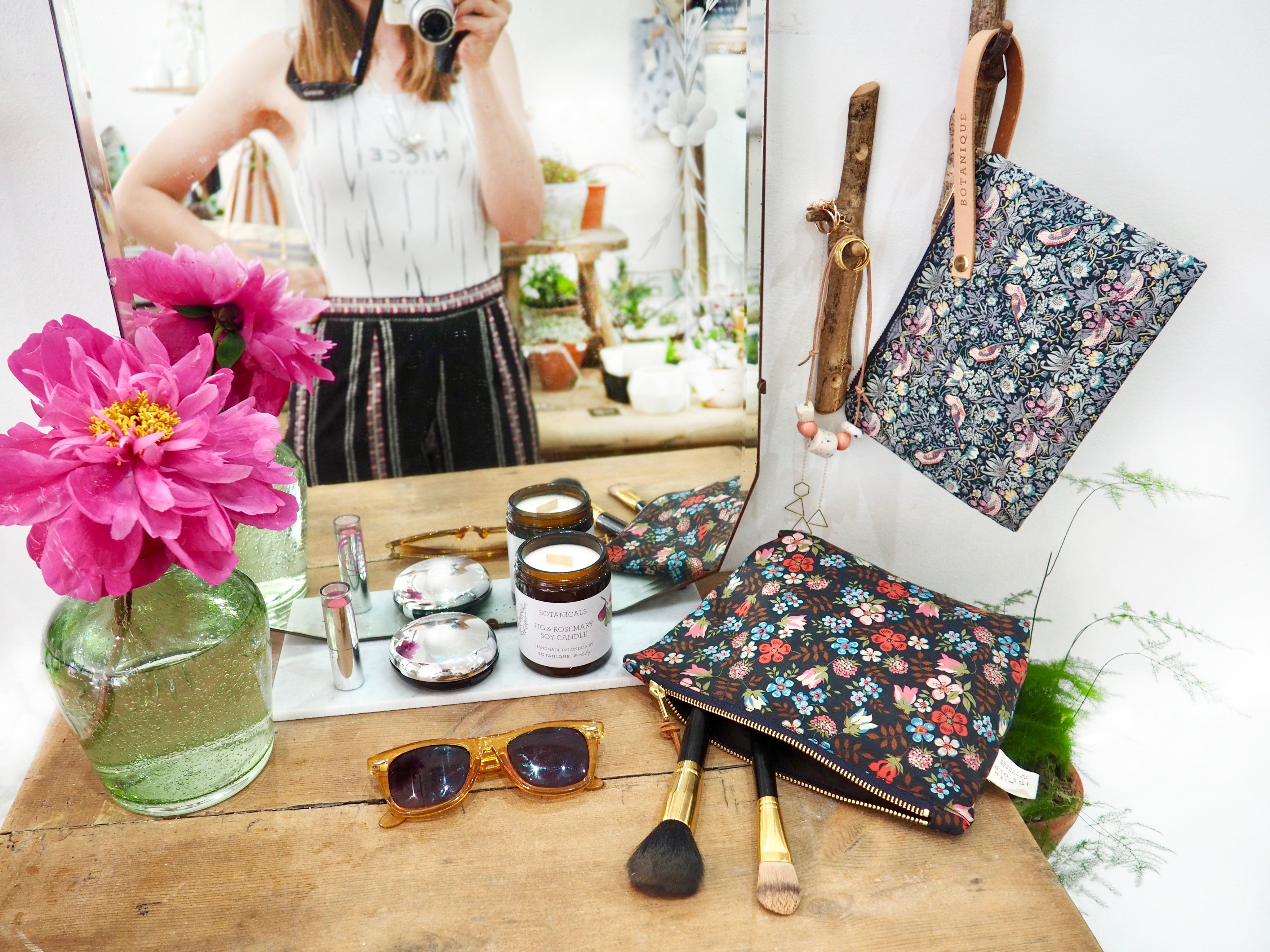 Stop giving us so much "stick" - 5 ways to use our infamous sticks
Throughout the months of March and April we were given a lot of "stick" for our hand crafted branch hooks. From articles likening our hooks to sticks you'd find in Clissold park (read here), to the Telegraph reporting that our sticks are the key indication that peak gentrification has been reached here in Stoke Newington. (read here) 
Are they really just sticks? Absolutely not!
Here's our top 5 ways to use these hand crafted wooden hooks. From jewellery to clothes there's a place in your home, everywhere including the kitchen sink!
1. The smaller hooks make for the perfect accessory holder. From rings to necklaces and even small handbags - see all your treasures hung up rather than tangled inside your jewellery box. Pretty and practical!
1. Green vase £16 | 2. Homemade Fig and Rosemary scented soy wax candle £14.50 | 3. Floral liberty print large zip pouch £26 | 4. Hand crafted ceramic necklace £28 | 5. Small stick hooks £12  | 6. Liberty print clutch bag £28
1. Rose gold flower ring £16 | 2. Gold cut out leaf ring £16
2. Our sticks will make for the perfect conversation starter as your guests arrive to your dinner party. Hang up coats, pashminas and even sunbrellas on these unusual, unique wooden hooks and intrigue all your friends. Don't forget to wow them even more with one of our scented candles which you can shop for online or come in to the store for a sniff!
3. Kids love the outdoors so for an injection of nature in to your little ones sanctuary, use these hooks for clothes, accessories and even mini terrariums.
1. Long 3 hook stick £18 | 2. Small hooks £12 | 3. Mini terrarium with mini cacti £15 | 4. Potted small succulent £8 | 5. Pressed flower frame - snow drops - £35
 Children's cloths by What Mother Made
1. Mushroom Print turn up dungarees -  £45 | 2. Anchor denim dungarees - £35 | 3. Checked shirt - £ | 4. Mushroom bow tie - was £18 now £5 | 5. Checked bow tie - was £18 now £5 | 6. Mushroom shirt - SOLD OUT
1. Boarder Terrier greetings card - Fetch & Follow - £3.50 | 2. Mini cacti and succulents - £2.50  
Whether its for hand towels, hanging wash bags or back scrubs, bringing nature in to your bathroom is known to make for the perfect tranquil getaway. Escape the hustle and bustle and imagine yourself in a dreamy woodland with no stress and interruptions. For complete relaxation and for their cleansing properties why not try some of our homemade Himalayan bath salts infused with fig, rosemary and eucalyptus oils and sprinkled with lavender and rose petals.
Here at Botanique Workshop we love the contrast between nature & industrial, between metal & wood. Our sticks provide the perfect spot for all your kitchen utensils and tidying away tea towels.
1. Recipe Note cards - Wit Shop - £9 | 2. Large branch hook £24 | 3. Medium stick hook £18 | 4. Pot £9 | 5. Pot - £18 Fern - £9 
1. Glassware bottle vase - £12 available from £5 | 2. Savon Stories Mandarin & Geranium Hand and body wash - £23 |  3. Medium Succulent £9 | 4. Graphic print ceramic mug - Anna Beam £34 | 5. Contrast blue and pink ceramic mug - Anna Beam - £34 
 Next time you are passing our Stoke Newington store please be sure to drop in and take a look at our multi-purpose "sticks" for yourself and see what you think! ;)